Cricket has long been considered a national pastime in India, where the sport has been played for almost three centuries. Introduced to the subcontinent by the British East India Company, the first recorded cricket match was played in the country in 1721.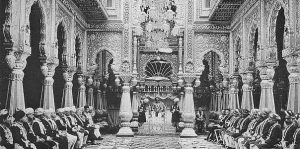 By the 1790s, India's first cricket club had been established in Calcutta (now referred to as Kolkata). By the turn of the 19th Century, a second club had been established at Seringapatam (Srirangapatna) in southern India.
Indian cricket made its next major advance in the early 1890s, when a team set up by Bombay's European community (the Europeans) played two landmark matches against a rival club established by the city's Zoroastrian community (the Parsees).
India was granted official test status in 1932, when its nascent cricket team played its first official match against its English counterpart at Lord's Cricket Ground in London, which it lost by 158 runs.
A Force To Reckon With
By the 1950s, the team had improved notably, winning its first test match against England in the city of Madras (now Chennai) in 1952. The same year saw the Indian team defeat Pakistan, which remains its arch-rival to this day.
Over the course of the following decade, India began making a name for itself on the international cricketing stage, winning two hard-fought series against the New Zealand team.
By the 1970s, India's national team had become a force to be reckoned with, producing such batting legends as Sunil Gavaskar and Gundappa Viswanath.
The Indian team has since gone on to clinch the Cricket World Cup on two separate occasions.
In 1983, they defeated the West Indies team in World Cup finals held in England. They did it again in 2011, beating Sri Lanka at Mumbai's Wankhede Stadium, becoming the first country to win the coveted prize in a World Cup final match played on home soil.