In the western imagination, Afghanistan typically conjures up images of endless conflict and rival warlords.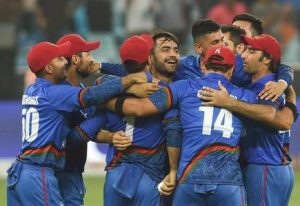 What is less well known, however, is the country's longstanding affinity for cricket – a sport usually associated more with its regional neighbours, Pakistan and India.
In his book 'Out of the Ashes: The Remarkable Rise and Rise of the Afghanistan Cricket Team', author Tim Albone tells the story of how the war-torn country's national cricket team managed to push its way, through sheer force of will, into the international sporting arena.
First published in 2011, 'Out of the Ashes' follows a group of young Afghan men who learned to play cricket in a Pakistani refugee camp, after having been forced to flee their native country due to the ongoing conflict there.
Albone, a former Sunday Times correspondent, recounts how these determined athletes first mastered the sport before going on, against all the odds, to achieve international stardom on the cricket pitch.
Documentary film
Publication of the book was preceded by an 86-minute documentary film, also entitled 'Out of the Ashes'. Directed by Albone (along with Lucy Martens and Leslie Knott), it documents the fledgeling team's successful struggle in 2010 to qualify for the World Twenty20 cricket championship.
Upon its release, the documentary was hailed by critics. One reviewer for the UK's Guardian newspaper glowingly wrote that the film deserved to be seen 'by as many people as possible', regardless of whether or not they are fans of the sport.
Even though Afghanistan still reportedly lacks a proper cricket pitch, the sport has remained popular in the country since the mid-1800s. Only within the last decade, however, has its national team enjoyed such notable successes.
In 2017, the team was finally granted full membership in the International Cricket Council (ICC), where it now holds the world record for the highest Twenty20 International score.