Few things in cricket beat an epic chase where the match goes down to the wire. The following are some of the greatest comebacks in the history of the sport.
Rajasthan Royals vs. Deccan Chargers (24th April, 2008)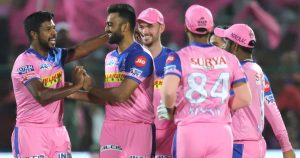 It all started with Andrew Symonds collecting a whopping century for his team (Deccan Chargers), where a total of 214 was scored off 20 overs. At this point, the Royals' participation appeared as though it was a formality, as their opponents were firmly in control of the match. However, a wave of surprise swept through the entire cricketing world when Royals' Yusuf Pathan hit 61 off 28 deliveries. This was more than enough to reinvigorate his side. Warne added the final nail to the coffin by hitting two fours and two sixes in a nine-ball innings. This earned the Royals the IPL title on the second last ball.
West Indies vs. Australia (9th May, 2003)
The Windies started on the wrong footing when they lost the first three tests to their opponents. However, the fourth test is what marked the beginning of an epic comeback, which would see them overturn a 418 target to win the encounter. With only 46 runs remaining to catch up with their opponents, Vasbert partnered up with Omari Banks to close the gap on the Aussies and deny them (the Aussies) the win. The home crowd had every reason to be electrified, given that this would go on to effectively erase the memories of the loss they suffered in the hands of India 27 years earlier.
South Africa vs. West Indies (11th January, 2015)
It all started with the hosts, South Africa, posting 236. However, the Windies had Chris Gayle. With the star's 90 off 41 balls, he closed the gap significantly for the tourists. Darren Sammy would then smack 20 from 7 balls to mark the end of this dramatic comeback.